The Hartford Whalers:
---
The Hartford Whalers, Connecticut's first, last, and to this point only professional sports team. The team began play in 1972 in the newly formed WHA( World Hockey Association) as the New England Whalers, playing their home games in the Boston Garden. Under the guidance of the teams owner, Howard L. Baldwin Sr., the team decided that the Boston market was too swamped with hockey teams, with the Bruins playing to capacity crowds nightly, and the new NCAA National Champion Boston University Terriers all calling Boston home. The teams top two choices were Providence and Hartford, both of whom were building new Civic Centers. In the end the team chose Hartford bacause of its very impressive list of Fortune 500 companies in the city. The team would begin play in Hartford halfway through the 1974-1975 season. In 1979 the team would begin play in the National Hockey League along with the Winnepeg Jets, Quepec Nordiques and Edmonton Oilers, and to this day only the Edmonton Oilers remain in operation. The team would be a fixture on the Connecticut pro sports seen for 18 season, though the city would only see 3 winning seasons in that time. The teams run in Hartford would end on April 13th, 1997 when Peter Karmanos moved the team to the hockey paradise otherwise known as Raleigh, North Carolina despite the fact that the team had averaged 14,620 fans per night, a 14% increase over the previous season despite another losing season in Hartford. Want to make a difference, Join FAB, and also join the RHWO, as well as buffing up on your Whaler history!
---
Webrings I belong to:
Recent Updates:

-Links(11/22/99)
-A New Look(11/17/99)
-News(11/17/99)
-News(11/12/99)
-News(10/26/99)
---
Take a moment to
join FAB (fans
against Bettman)
because we know as
long as he is in
of the league, Hartford
will never see another
NHL team. After you
have joined FAB


and enjoyed my
website, stop by the
links section and join
theRHWO (return the
Hartford Whalers
Organization).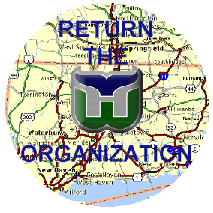 You can also visit the
contacts page for a
listing of people who
would be very
influential in having
the NHL return to
Hartford. Remember
to keep the letters
going, and never let
them forget about the
mistake they made by
leaving Hartford!